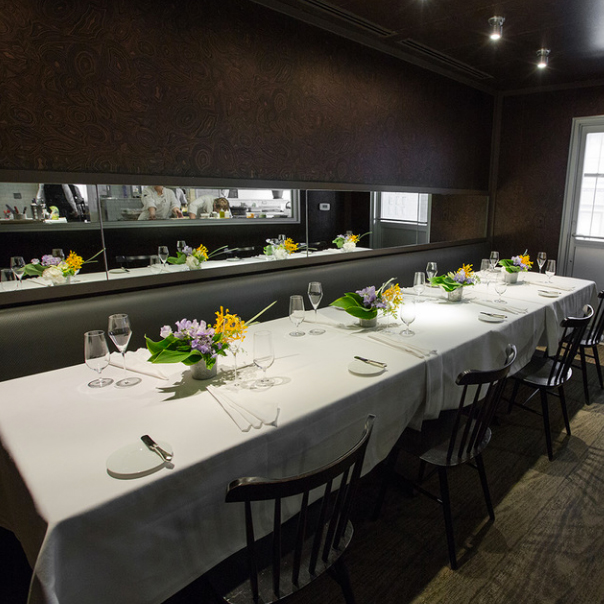 Restaurant: Boston's Fort Point neighborhood is the perfect setting for Menton, chef Barbara Lynch's modern interpretation of fine dining. With beautifully executed cuisine, an unparalleled wine program, gracious hospitality, and a glamorous setting, Menton seeks to excite and inspire its guests.
Just as chef Lynch carefully sources each ingredient, every element of the space—from the French linens to the Austrian wine glasses—has also been thoughtfully selected to enhance the entire dining experience. The restaurant's interior reflects chef Lynch's vision of fine dining: a marriage of luxury, whimsy, elegance, comfort, and surprise.
Since opening in 2010, the restaurant has received numerous accolades, including a four star review from The Boston Globe, the title of one of Bon Appétit and Esquire magazines' best new restaurants in 2010, and a James Beard Foundation Award nomination in 2011 for Best New Restaurant. In 2012, Menton became the first and only Relais & Châteaux property in Boston and its reputation as a culinary destination was further confirmed with the receipt of AAA's Five Diamond Award and Forbes Travel Guide's Five-Star Award.
Chef: While growing up in South Boston, Barbara Lynch got her first kitchen job cooking at a local rectory. It was in high school, however, that an influential home economics teacher and a job working with chef Bonello piqued her interest in becoming a professional chef. During her early twenties, Barbara worked under some of Boston's greatest culinary talents and traveled to Italy where she learned about the country's cuisine firsthand from local women. She returned to Boston and became the executive chef at Galleria Italiana.
In 1998, Barbara opened her first restaurant, No. 9 Park. The restaurant immediately received rave reviews. Many Barbara Lynch businesses were to follow, including an oyster bar, butcher shop, demonstration kitchen/cookbook store, cocktail bar, diner and most recently Menton.
Chef Lynch has received many distinctions, such as The James Beard Foundation award for Outstanding Restaurateur; she is only the second woman to receive this honor. Chef Lynch is currently the only female in the United States to hold the distinguished title of Grand Chef Relais & Châteaux.
As the founder and CEO of Barbara Lynch Gruppo, chef Lynch oversees the operations of all of her businesses, employees and her charitable foundation dedicated to empowering Boston families.
Butter: Sarah, a former Menton employee, had heard legends of an amazing woman in Vermont who handmade 85% butter-fat butter. The employee was so intrigued that she searched out Diane St. Clair at Animal Farm and insisted that chef Lynch try her butter. "I, of course, fell in love with the first bite and the rest of history," admits chef Lynch. When I asked chef Lynch if she adds any ingredients to the butter, she replied, "No! I'm a purist when it comes to artisanal products."
Menton waiters offer several different bread options alongside their Animal Farm's unsalted butter. At lunchtime guests are greeted with honey butter croissants, herb focaccia, and milk rolls. However, at dinner the bread service is a progression, always beginning with their honey butter croissants. Guests are then offered several bread options including a beer pretzel roll, a potato & dill roll, a mini baguette, or a whole wheat & thyme country loaf (among others).
Commentary: Chef Lynch remembers being a child and shaking heavy cream in a mason jar until it turned into butter and then spreading it on saltine crackers. "It was good, but God, nothing like the gorgeous artisanal butter of Diane." She is speaking of Diane St. Clair of Animal Farm.
An Evening of Champagne and Butter:
Menton hosts Champagne & Butter every September and debuts a 5 course tasting menu with Champagne pairings, all designed around Diane St. Clair from Animal Farm's gorgeous butter!
This event is a must for anyone who enjoys champagne and butter, arguably two of the most luxurious creations in the world of food and drink.
Chef Barbara Lynch's Book
Menton's
354 Congress St, Boston, MA 02210
(617) 737-0099
Barbara Lynch's other ventures