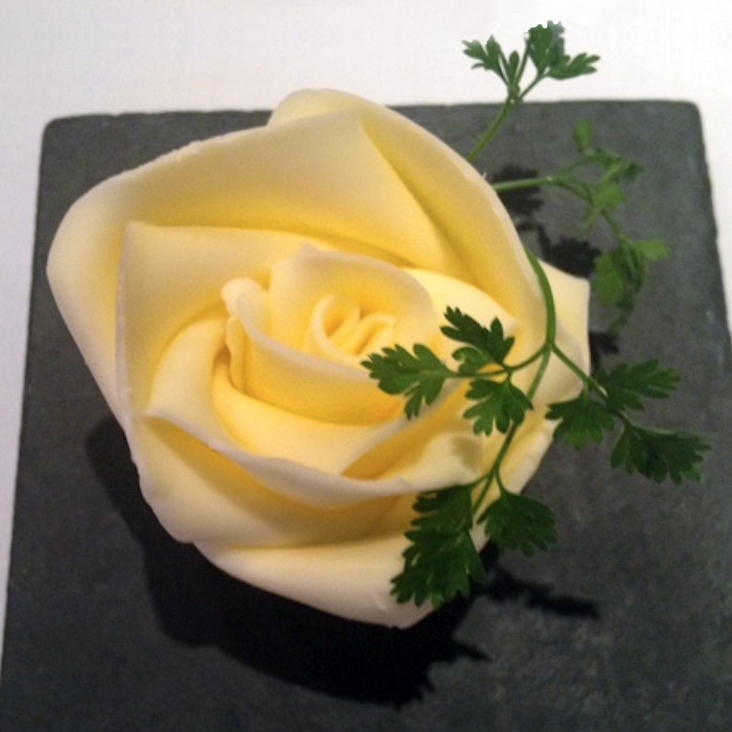 Restaurant: The Box Tree, West Yorkshire's Michelin-stared restaurant, is situated in a nearly 300-year-old building. The classical French restaurant has earned a reputation as one of England's premier establishments.
Manager: General Manager Andrew Pratt started off as a Box Tree commis waiter in 1988. He worked at other venues for a time, but returned to The Box Tree in 2004.
Butter: This restaurant's staff goes to extraordinary lengths each day to perfect their butter. Using only potato peelers, employees (not chefs!) carve hundreds of individual "petals" from bricks of butter. The staff sculptors—who make up to 50 servings at a time—then meticulously arrange the petals into delicate butter roses on a dark serving platter. The Box Tree has been crafting butter flowers for over 30 years. At this point, no one is quite sure who came up with the original design.
Commentary: "We eat with our eyes first," says Mr. Pratt. "Presentation entices us to eat something—in principle, if it looks good, it should taste good too. We feel that if you create something, it should be perfect.
The Box Tree
35-37 Church Street, Ilkley, West Yorkshire, LS29 9DR UK
01943 608484